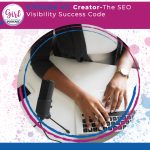 We are more than halfway through our SEO Visibility success code types and this is when the rubber meets the road. You don't have to wait for 6 months or until you've reached the "end" to see SEO results as an SEO creator you'll start to get the benefits of SEO in the search engines and the way your business shows up as an authority in your industry.

Similar to have we've done the other episodes in the Creator Episode I put on my SEO Coaching hat and I tell you:
What to focus on as an SEO creator?
Where people get stuck creating for SEO in the stage
How to get through the Creator phase (and what does that really mean)
And the 1 question you can ask yourself to know if you are creating the right content for your SEO glow up.
Some of the links I mentioned in this episode :
Other episodes about the success code: