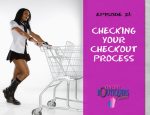 In today's episode I talk to you about what's killing your online checkout process and loosing a lot of sales for your online boutique. I know we talk about abandoned cart recovery, but in this episode I want to talk about what drives customers to abandon their carts and leave your online store in the first place.
What you'll learn:
Why people are stopping and not buying during your checkout process
What's an upsell and how it can make you more from each sale
How to get people to act on those impulse buys
How to set up your eCommerce website pages so you can get more sales from your social media post
3 ways to improve your check out today and avoid costly traffic leaks.
Mentioned in this episode:
SEO Beginner's Guide http://onlineboutiquesource.com/seoguide