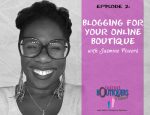 Today we talk to Ambitious Diva Marketing guru Jasmine Powers, about how blogging can help your online boutique, build a loyal customer following, and increase sales. Jasmine and I have a great time sharing our experiences with blogging and how it has helped to propel our business and keep our brands in the minds of clients and customers with our blogs.
[Tweet "Reuse your content "No content left behind" @jasminepowers (@OBoutiqueSourc) http://ow.ly/IQJ77″]
What you'll Learn this episode:
What is the advantage of having a blog for a product based business?
How can you get started blogging?
Content ideas for your blog?
Dos and Don't of blogging
A little SEO Talk
A Little About Jasmine:
Jasmine Powers is the marketing and creative director and founder of Ambitious Diva Company, a women's business community, and marketing agency. Her company is responsible for producing experiential PR events, developing cohesive marketing and ad campaigns, orchestrating profitable strategic partnerships and providing marketing consulting for entertainers, major corporations, and newly launched businesses.
FB/ambitiousdiva Tw: @jasminepowers Websites: http://www.jasminepowers.com/
Links and Resources:
Feedback on the Podcast
If you enjoyed the podcast please take moment to give us a Review of on iTunes. If you have any questions or suggestions for upcoming shows please leave a comment below or join us in the Online Boutique Source FB group.