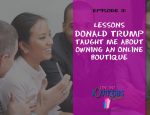 This episode we explore some key lessons learned from this season of Celebrity Apprentice. The lessons include about marketing, online presence, and viral video really got me to think about the way I see many online stores run their marketing and how it could be so much better.
[Tweet "Always focus on the product, product is key @OBoutiqueSourc"]
This Episode is not an endorsement of Trump, this was way before he started spewing hateful rhetoric
Links and Resources
http://www.nbc.com/the-celebrity-apprentice
Subscribe to the Podcast
Don't miss an upcoming episode subscribe in itunes
Feedback on the Podcast
If you enjoyed the podcast please take moment to give us a Review of on iTunes. If you have any questions or suggestions for upcoming shows please leave a comment below or join us in the Online Boutique Source FB group.