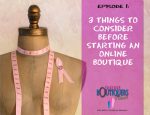 Getting started is always the hardest part, so for this first episode not only did I want to tell you about the podcast but also deliver some content about what you need to know to start your online boutique. Many people start a boutique with themselves in mind but they rarely think about the customer. The customer isn't thought of until the end when it's time to market too them or when you are wonder where are my sales. So in today's episode I help you start you boutique right, with the customer in mind.
Links and Resources
Online Boutiques Source Society Facebook Group
Starting your Online Boutique Checklist
Subscribe to the Podcast
Don't miss an upcoming episode subscribe in itunes
Feedback on the Podcast
If you enjoyed the podcast please take moment to give us a Review of on iTunes. If you have any questions or suggestions for upcoming shows please leave a comment below or join us in the Online Boutique Source FB group.
Do you need more help with getting your boutique started? Grab this step by step checklist