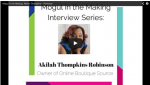 Last week I had the honor of being interviewed for Brandi L. Spencer's Mogul in the Making Series. I had a great time sharing with Brandi about my journey to becoming an entrepreneur. During the interview I shared a little with her guest about how and why I started Online Boutique Source. And 3 powerful tips to get your Online Boutique Website started.
Watch the full interview here. And don't forget to leave  a comment 😀
Also a little BONUS: I announce during the interview my next free webinar on Oct 15th. You'll get all the details in the interview so watch it to the end.