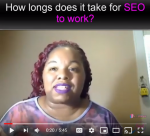 There are a lot of myths about how long SEO takes, SEO taking so long, don't do SEO because it'll take months.
But none of it is true, well to be fair it's not true if you're doing right. Think about it, if SEO takes as long as they say every SEO agency would be out of business and every company would shut down their SEO departments.

In this video, I help you cut through the myths and all of the lies about SEO and give you a real break down of what to expect when you get started with your SEO.
After the video check out SEO Visibility Success Code Quiz to learn what you can do to make sure your SEO doesn't take months and years to see your results.