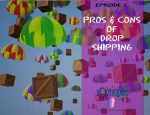 Many people are told drop shipping can be a great option to start your online boutique retail business, but they don't give all of the details, this to look out floor, or what kind of online stores does drop shipping make sense for. In this episode I discuss the God, Bad, and Ugly of using a drop shipper to get your wholesale products for your business.
I get real about the pros and cons and give you real life examples of where it works really well and when it does not.
Subscribe to the Podcast
Don't miss an upcoming episode subscribe in itunes
Feedback on the Podcast
If you enjoyed the podcast please take moment to give us a Review of on iTunes. If you have any questions or suggestions for upcoming shows please leave a comment below or join us in the Online Boutique Source FB group.